Meaning - What are Symbols?
The definition of a symbol is something that represents something else through association or resemblance. There are many symbols that are associated with Ireland and its Celtic people. Symbols such as the Claddagh ring and the Leprechaun for example are considered to be traditional symbols of Ireland. Several musical instruments are also thought of as Irish, the Fiddle, Bodhrán and Tin Whistle as well as the Uilleann pipes which are pronounced "illin commonly known as Irish Bagpipes are examples of traditional symbols. Although not as well known as other Irish symbols, the harp is in fact the national symbol of Ireland. A beautiful instrument with a long history in Ireland was popular with the aristocracy and people of a higher class, its history can be traced back to the 10th century.
The following quote is taken from the book 'The Glories of Ireland published in 1914 and is addressed to 'The Irish Race In Every Land'

Ireland: "All thy life has been a symbol; we can only read a part:
God will flood thee yet with sunshine for the woes that drench thy heart."
John Boyle O'Reilly

Irish Symbols - Accordion
The accordion is very popular in modern Irish folk and traditional music and is available in different forms. The two row button accordion as shown in the picture above is popular with modern Irish accordion players. There are several types of accordions available, for example the Melodeon and Concertina versions are also popular in Irish music as well as the piano accordion which is often played by marching bands popular all across Ireland. Traditionally the accordion was popular with the lower classes as opposed to the harp which was played more by the upper classes.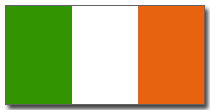 Irish Symbols - Tricolor Flag
The Island of Ireland is actually made up of two separate countries each with their own government, currency and laws. The Republic of Ireland is a state which covers approximately five-sixths of the country and the remaining sixth of the island is known as Northern Ireland. Northern Ireland is part of the United Kingdom. The United Kingdom is made up of England, Wales, Scotland and Northern Ireland. The country's official constitutional name is Eire or, in the English language, Ireland. The Irish flag is known as the tricolor and it has three equal vertical bands of Green (hoist side), White and Orange.

Irish Symbols - Leprechaun
The Leprechaun or "Artisan of the Brogue" is known in many stories as the Fairy Shoemaker with a hidden pot of gold! He is probably the most well known symbol of Ireland! Irish children are told the story of the hidden pot of gold to be found at the end of a rainbow. An old poem by Nora Chesson the famous English poet of Irish descent says "If you can catch the Leprechaun and keep him in your hold, He'll show you where lies buried a crock of fairy gold". Click on the link above to read the full text of the Leprechaun Poem as well as a beautiful story about Leprechauns and some funny jokes!


Irish Symbols - Example

Irish Symbols - Celtic Tattoos
Irish and Celtic symbols are an ideal choice for a tattoo design. If you are looking for a beautiful design for a tattoo we have included lots of Celtic designs and Gaelic words, check out our section on Irish Gaelic Translation we have included over 500 words, you are guaranteed to find something suitable. Beautiful traditional designs including Celtic knots, scrolls and mythical animals. Look at the symbol below, it is composed of several individual designs, each one suitable for a tattoo. The knot in the centre is a great example of a Celtic knot and the dragon creatures would make a fantastic tattoo! Make your tattoo unique, simply print out a selection of different Irish Celtic symbols and choose your favorites. Then simply piece together your favorite designs and words and create your own unique tattoo design!


Symbols are an ideal choice for a Tattoo
Irish Symbols - Harp

The harp is the national symbol of Ireland and the Celtic harp appears on Irish Currency and is associated with popular Irish brands such as Guinness and Ryanair. One of the most famous Irish harp players was Turlough O'Carolan who was blind. Born in Ireland in the 18th century, he was famous for playing the Harp but was also a composer and a singer. He is commonly known as Irelands national composer.