What is Culture? Definition and Meaning
What is Culture? Culture is the traditions and beliefs of a group of people. Our culture is taught to us by our parents as we grow, we learn to behave in a particular way. As we grow we begin to understand the traditions, beliefs and culture of 'our' own people, differentiating between right and wrong. Culture can be described as protocol, it is a way of life that we choose to live because we believe it is right and how our ancestors and fellow country men and women live, not because we are legally obliged to do so. Culture is passed down from generation to generation, often we have no idea why we have a particular belief or superstition, we are just brought up to know what is right or wrong in our culture! Young children have no idea why seeing one magpie is considered bad luck! A perfect example of a parents culture, superstition or belief that is passed down from generation to generation. Culture can also refer to Art, Buildings, Religion as well as History. The Culture of a person can be described as the social relationship between the person and artefacts.

Irish Culture - Traditional Thatched Cottage

What is Irish Culture?
What makes the people of Ireland loved all over the world? The 'Gift of the Gab' or 'The Luck of the Irish' perhaps? Does their belief in Leprechauns, Myths and Legends help? Or their love of traditional Irish Music, Song and Dance? These examples are just a sample of the Irish Culture that this amazing country has shared with the rest of the world. Many Irish people have made a huge impact on Literature and poetry over the centuries. William Butler Yeats, the Irish born poet and playwright was intrigued with Irish Legends. Oscar Wilde or Oscar Fingal O'Flahertie Wills Wilde to give his full title was an inspirational Irish writer and poet. Ireland is a tiny country in comparison to the rest of the world; it has however produced a huge amount of talent and a rich culture, its people have made such an amazing contribution not only to world literature but to Music, Dance, Food and so much more!

Irish Culture - Traditions
Irish traditions are famous all over the world. Most people associate Leprechaun's and Shamrocks with Irish Culture but the Irish have many traditions which are unique to their culture. The Irish wake is an example of the unique Irish Culture. When a family member dies, it is tradition to celebrate the persons life before and after the funeral. Even in the modern Ireland of today, it is tradition that the deceased's body is brought 'home'. The family home becomes a 'Wake House' where the body is displayed in an open coffin for friends and family to come and pay their last respects. The immediate family welcome visitors to the wake house and food and drink is offered to visitors. The life of the deceased is celebrated, stories are told and prayers are said. It is customary for the rosary to be prayed as a group with the immediate family members praying the first part of the prayers with the responses prayed by the visitors paying their respects. Usually after two nights at 'home', the body is then taken to church for requiem mass followed by burial. Cremations are rare, particularly in rural areas. Often the wake continues with a meal and drinks in a local pub, again to celebrate the life. The road sign below from rural County Donegal directs visitors to a wake house to pay their last respects.

Irish Culture - ' Wake House' Road Sign

Irish Culture - Beliefs
The Irish have hundreds of different traditions and superstitions. Read through the following list for some examples, believe them or not? Its up to you!
Irish Culture Belief 1: Two people washing their hands at the same time in the same basin is a sign of disaster


Irish Culture Belief 2: If you stumble at the foot of a grave, it is bad luck, but fall in and you will die within the year


Irish Culture Belief 3: On your wedding day it is lucky to hear the cuckoo or see three magpies


Irish Culture Belief 4: The bride and grooms must follow different routes to the church


Irish Culture Belief 5: Brides should always carry a horseshoe


Irish Culture Belief 6: It was believed that the spirit of the last person buried in a graveyard watches over it and bring water to the souls in purgatory


Irish Culture Belief 7: If the first lamb of the season is black, it indicates mourning garments within the year (i.e. a close relative will die)


Irish Culture Belief 8: If a girl whistles inside the house it is considered bad luck


Irish Culture Belief 9: Killing a robin redbreast brings bad luck for the rest of your life


Irish Culture Belief 10: If you see a single magpie outside your door, it is considered bad luck


Irish Culture Belief 11: Seeing Two magpies outside your door is however good luck!


Irish Culture Belief 12: Never build an extension to your house from the rear, especially if it faces west


Irish Culture Belief 13: Never bring lilac into the house


Irish Culture Belief 14: Taking home a piece of straw from the church crib at Christmas will fill your home with luck and blessings


Irish Culture Belief 15: It is lucky to eat breakfast on Christmas morning by candlelight


Irish Culture Belief 16: Eating an apple at midnight on Christmas Eve brings good health for the rest of the year


Irish Culture Belief 17: All prayers said on Christmas eve will be answered
Irish Culture - Traditional Irish Shamrocks
Irish Culture - The People
What makes the culture of the Irish people unique? Is it their sense of humor? Their beautiful Gaelic language? The numerous myths and legends that have been passed down from generation to generation? It is true that over the centuries, the Irish people have suffered immense hardship through wars, famine and forced immigration. Irish soldiers were sent all over the world to fight the battles of other countries, their people were thrown out of their homes by English landlords and forced to 'Hell or to Connaught'. Families were separated and sold as slaves to the highest bidder! How is it that the Irish have kept their immense sense of pride? How do Irish eyes keep smiling? The ancestors of Irish descendants today suffered severe hardship but their religious beliefs and love of their native land has resulted in a race of extremely strong willed people who have over the years proved they were prepared to die for their country rather than submit to becoming just another part of England. How have they kept their unique culture?
Irish Culture - Traditional Aran Knitting
Irish Culture - Music
The Irish are known all over the world for their love of music. Singing, performing and dancing is a huge part of Irish culture. Ireland has produced some amazing singers and musicians; U2, and Enya are both perfect examples! Traditional Irish music is also extremely popular. The Tin Whistle, Flue, Fiddle, Accordion and the Bodhran are familiar instruments played in Ceilis's and Irish Pubs all over the world. Irish children are still taught to play traditional instruments, their parents keen to carry on ancient Celtic traditions and favour traditional instruments to the more modern ones. The popularity of Irish dancing is increasing! Irish dancing teachers all over the world teach second, third and fourth generation Irish girls and boys traditional jigs and reels. The outstanding success of productions such as Riverdance has encouraged even more children to learn to dance just like their ancestors. Irish dancers compete in competitions regularly, all hoping to qualify for the world championships which brings together competitors from all over the world to be recognised as the best!
Irish Culture - Traditional 'Tin Whistle' Instrument
Irish Culture - Food
Bacon and Cabbage, Irish Stew, Potatoes, Colcannon, Soda Bread, Potato Bread, Black and White Pudding, Guinness, Baileys and Irish Coffee are just a few examples of the food and drinks that are associated with the Emerald Isle and form part of its unique culture. Traditional Irish food is loved by people all over the world regardless of their Irish Heritage. Restaurants everywhere serve Irish Coffee as an after dinner liqueur and Irish Whiskey and Guinness are exported all over the world. Traditional Irish Cuisine lacks the spice of other countries food but it is just as popular.
Food in Ireland was traditionally made from the crops which were grown there and not imported as it is today. The climate in Ireland is ideal for raising cattle and sheep and the crops included Potatoes, Carrots and Parsnips. Most people kept chickens so they had a regular supply of eggs. Cows were also kept to provide milk for the family. Many Irish people relied on the sea for their living. A huge number of fishermen made a living from the sea, the North Atlantic serving those on the West coast and the Irish Sea provided food for those living on the East Coast. Salmon, Pollock, Herring, Monkfish as well as Lobsters and Crabs meant those living near the sea often had a much better diet and lifestyle than those living further inland.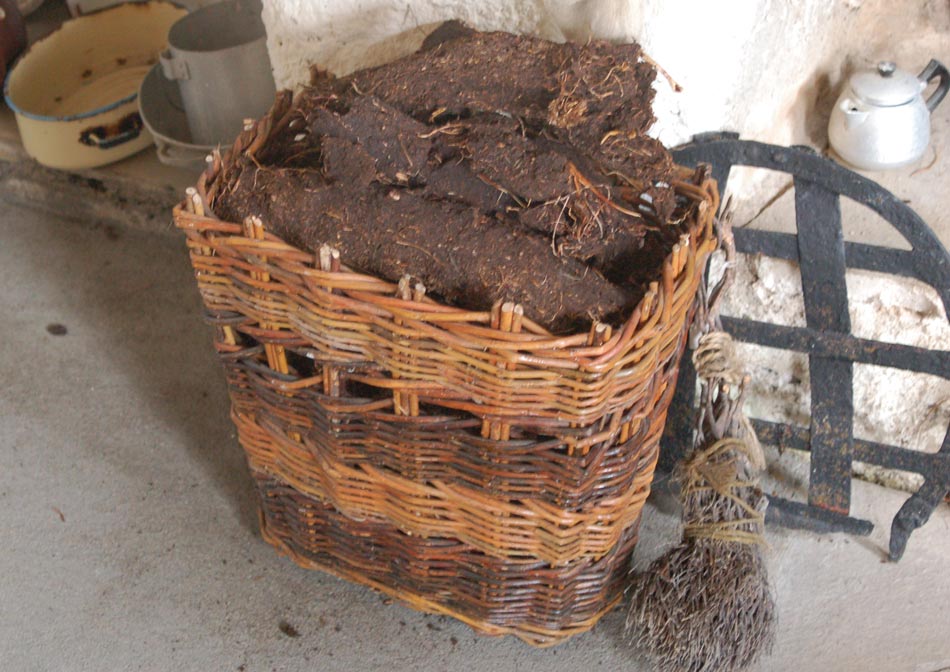 Irish Culture - Basket of Turf