Trinity Knot - Meaning of Symbols
The Trinity Knot is also known by the name 'Triquetra' which means triangle and means a three-cornered shape. It is a popular feature in Celtic art, more specifically in Insular art. Insular art is believed to have originated from the Irish monasticism of Christianity in the early middle ages. A famous example of Insular art can be found in the beautiful illustrated manuscript, the 'Book Of Kells'. Insular art is popular in illuminated manuscripts (such as the Book of Kells) as well as metalwork and stone carvings, indeed many Celtic crosses feature this type of illustrative art work. Today, the Celtic Trinity knot is often found in Celtic jewelry where the beautiful knot pattern is used in necklaces, wedding and engagement rings.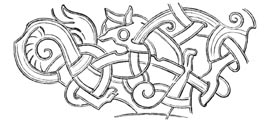 Example of Celtic Zoomorphic Design
Cross Symbols
The Cross is ultimately the most well known Christian symbol ever! Crosses are the Christian symbols or seals that people all over the world recognise no matter what their religion is and remind Christians everywhere that Jesus died on a cross. Celtic Crosses are beautifully decorated crosses and are found all over Ireland, they are commonly found in church grounds, holy ground and in graveyards all over the country. Celtic crosses feature many different patterns, such as spirals, interlaced ribbons and knots. Unlike Celtic manuscripts they are unlikely to feature mythical animals or plants and instead may have some Christian symbols such as the chi-rho which was originally a pagan symbol adopted by Christians.


Example of Celtic Design Symbols
Celtic Patterns - Symbols
Celtic Patterns are made up from a variety of different components including mythical animals, interlacing ribbons, knots, and swirls. Zoomorphic patterns incorporate animals in the design and were frequently found in ancient manuscripts Celtic Patterns are extremely popular choices for tattoo designs, different knot work and patterns can be incorporated in a single design, ideal for a unique tattoo.



Example of Celtic Design Pattern
Celtic Knots - Types of Symbols
Most of the decorative knots used in Celtic design are either endless knots or basket weave knots. Insular art can be found in many ancient illuminated manuscripts as well as stonework such as crosses and monuments where the knots were used for design purposes. Endless Knots are symbolic knots representing eternal love and friendship, the knot has no beginning or end so is also often interpreted to mean eternal life. Basket Weave Knots are a series of different knots which all follow a pattern of one over, one under and lie in a rectangle shape.