Travel in Ireland
An amazing country to visit, Ireland has something to attract every type of visitor from the weekend traveller visiting one of the vibrant cities of Dublin, Galway and Belfast to the tourist who chooses Ireland as the destination for their annual vacation. Ireland is an ideal destination for Surfing, Fishing, Walking, Cycling, Golf as well for Families and returning emigrants, Ireland has something to suit everyone. From amazing seafood to mouth watering steaks, Ireland is renowned worldwide for its amazing food.
Browse through the section on Irish travel for information and facts about the major tourist attractions as well as information about the individual counties that make up this beautiful land.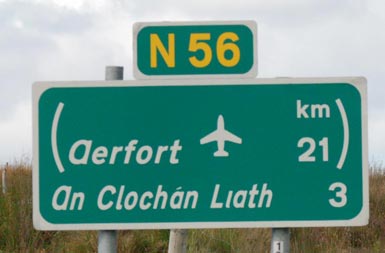 Ireland - Irish Dancing
Irish dancing is popular throughout the world and has been made even more popular in recent years due to the influence of shows such as Riverdance and Lord of the Dance. These energetic fast moving shows have transformed traditional dancing and given Irish step dancing a modern twist. Browse through the section on Irish Dancing which includes some beautiful pictures of Irish dancing costumes and shoes as well as an explanation of the different dances as well as the history of Irish Dance.
lrish Music
Read about the fascinating world of Irish Music! Ireland's musical history dates back hundreds of years. Before the games console, computer, TV and even radio! Traditional music was played in households, pubs, dance halls and Ceili's (also spelt Ceilidh's) across Ireland accompanied by a variety of musical instruments including the Harp, Bohran, Tin Whistle, Flute and Harp.
Irish Sayings
Irish sayings or proverbs are known as 'Seanfhocail' which translates as 'Old Words'. The people of Ireland are famous for their sense of humor and natural wit. Read a selection of sayings in both English and Irish. Some may be familiar to you, others new, they are guaranteed to raise a smile or two! Funny, Amusing and Witty, a great selection of traditional Irish sayings. Find out what the phrase 'Luck of the Irish' means and learn some funny Irish toasts!
Ireland - Irish Baby Names and Irish Surnames
Check out the baby names section, a great selection of Irish baby names, perfect for the expectant parent. Do you have Irish roots? Consider giving the new addition to your family a beautiful Irish name. We have also included a list of surnames, lots of information about Irish names and their meanings.

Ireland - Myths & Legends
Ireland is a country rich in history and there are many amazing legends and myths which have been passed down from generation to generation. Tales such as the Banshee, Finn McCool and the Children of Lir will amaze readers of all ages. Browse through the selection of Irish fairy tales, download them to your ebook reader such as the kindle or print them out to read to your own children. Compile a selection of your favourite myths and create your own fairy tale book.
Ireland - Celtic Symbols
A symbol is something that represents something else through association or resemblance. The Celtic people of Ireland are responsible for creating some amazing symbols. Celtic Knots and patterns in particular are hugely symbolic, each pattern and design has its own symbolic meaning. We have included pictures and information on different Celtic Symbols in this section.
About Ireland - Beautiful Irish Sunset
Ireland - History
The country of Ireland is split into two countries, known as the Republic of Ireland and Northern Ireland. Ireland is part of the British Isles, better known as the United Kingdom. Northern Ireland makes up one of the countries of the United Kingdom. The Republic of Ireland makes up five-sixths of the island of Ireland and the country's official constitutional name is Eire.
Ireland has a long and painful history from the Potato Famine which led to mass emigration to the conflict between the Catholic and Protestant religions as well as an extremely tempestuous history against British Rule. A history timeline has been included for reference and provides information on all the important events in Irish History.
Ireland Maps
Discover how the Island of Ireland has changed over the centuries. How does today's Ireland differ from the island in the 16th or 18th Century? The Island of Ireland was originally one country known as Ireland, it is now two countries known as the Republic or Ireland (or Eire in Gaelic) and Northern Ireland. A great selection of maps depicting how Ireland appeared from the 16th century, 18th Century and how the Island appears today.

Ireland - Irish Symbols
Symbols, Signs and Abbreviations have been used for in Ireland for centuries. The Celtic people of Ireland have many traditional customs and symbols such as the Shamrock, Celtic Cross, Claddagh, The Harp and Leprechauns! The section on Irish Symbols provides information on the history, origin and meaning of these symbols as well as pictures and videos.
Irish Blessings
Read our selection of Irish Blessings, the Irish have a blessing for almost everything! We have included traditional blessings for many different occasions! A beautiful way to show your loved ones how you feel about them, select one of our blessings to use in a birthday card or for your status update on your favorite social networking site! Impress your extended family at 'the gathering'! Print your favorite blessing guaranteed to cheer you up when you are feeling down or going through a difficult period in your life.